When was the last time you visited your local home improvement store to view the bathroom sink displays? If you are remodeling your bathroom you'll find loads of new design changes and ideas. Before you shop, look at recent magazines that feature bathroom renovations, to get fresh ideas. Think about the faucet you plan to use to be sure it's adaptable with the sink you choose. Decide what type of mount you will need, as there are wall mounts, consoles, vanity tops or even pedestals to consider. Other factors are colors, materials, sizes and shapes of sinks for the desired look of your kitchen or bathroom.

Counter Mount Sinks
Counter mount sinks are the most common types found in most bathrooms and kitchens. There are above counter models, as well as undermount options. An undermounted sink is installed below the counter or cabinet, creating a ceaseless surface between the counter and sink, which makes cleaning easier. Above counter (sometimes referred to as vessel), is similar to an attractive bowl that sits on your counter. You'll find they come in various shapes, sizes and materials.
Floor Mount Sinks
Floor mount sinks, also referred to as freestanding sinks, is supported by pedestal legs. This is a good choice for smaller bathrooms, but lacks cabinet storage below the sink, and offer no room for toiletries.
Wall Mount Sinks
Wall mount sinks open underneath and attach to the wall. They can fit into very small spaces without taking up floor space. Since this sink is mounted to the wall it's important to be sure the wall is adequate to hold the weight of the sink. A wall mounted sink can be a good choice if you need wheelchair access to the sink.
Console Sinks
Console sinks can be very stylish. Generally they are supported by up to four pedestal legs and sometimes are also mounted to the wall. Most styles offer space for some toiletries on the counter, and since there is open space below the sink, there is room for some additional storage or small waste can.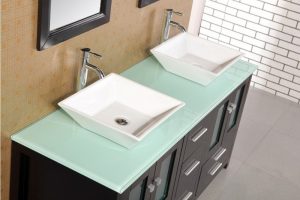 Vanity-Top Sinks
Vanity-Top sinks are built into the bathroom counter and made from the same materials. You can find them premade at your local hardware store and they are available in various sizes. The vanity-top sink is easy to clean since it is seamless from sink to counter. They also provide adequate space for toiletries, towels, or other decorative items you choose to display.
Hopefully you have a better understanding of the various types of sinks available for your new bathroom design. What next? Now it's time to consider a new tub, shower or toilet to finish the complete look of a beautiful new bathroom.
Contact us (859-331-8100) today to make an appointment!
—
About W.Stephens Cabinetry & Design
Quality Cabinet and Hardware Suppliers
We are aligned with the top cabinet, appliance, hardware, and countertop suppliers in the world.
Our Process
Initial Client consultation – The design process beings with a consultation at our show room or in your home to obtain the necessary information needed to design your dream kitchen, bath, or space.
Design – We carefully design the space, keeping your desires as the foundation of our creativity.
Feedback / Design Approval – Working with you, using your feedback to get final Design approval.
Installation Meeting – We meet with the installers, prior to installation to go over ALL the details.
Post Installation Follow-up – We follow-up with you to make sure everything went well during installation.
Our Designers
Our award winning designs collaboratively work together to create the perfect space for you.
>> View our designers