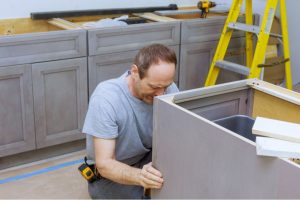 Remodeling your kitchen can totally transform the feel of your home– and you won't have to break the bank to do so. There are a few easy ways to save money on a kitchen remodel and we are here to give you the scoop. The following are some money saving tips that will help you with your remodel…
Give Your Existing Cabinets A New Look
One of the biggest ways to save is by simply refreshing your existing cabinetry instead of replacing them with new ones. Many people have turned to painting their cabinets over buying new ones. A few coats of paint can have them looking better than ever. Others add built-in cabinetry to their existing cabinets. Open shelving is another budget-friendly option that will modernize your kitchen to suit today's trends. At W. Stephens Cabinetry & Design, you can choose from custom built-in cabinets and shelves that will allow you flexibility in your design while improving the look of your kitchen without spending too much money.
Keep Your Layout The Same
Adding new cabinetry does not mean changing the entire layout of your kitchen. As we mentioned before, adding built-ins to your existing space is a cheaper option than changing the whole layout. Instead of removing floors and lowering cabinets, choose to add open shelving or built-ins in higher areas. You may also consider adding a kitchen island or updating the hardware in your kitchen to get the fresh look you are hoping for.
W. Stephens Cabinetry & Design offers a variety of countertops and kitchen hardware that can be installed without having to switch the layout of your kitchen. New light fixtures, door and drawer knobs, and cabinet pulls are just a few things you will find in our showroom.
Beware Becoming a DIY-er
With a little know how, you can take on some of your kitchen remodel yourself to save yourself money but be careful not to cause problems add unneeded expenses to the project. Let's face it… most guys think they are more handy than they really are. 🙂 Leave installing cabinetry and other more difficult jobs like adding an island or new countertops to be done by a professional to avoid damaging your space and not installing these things properly.
Choose W. Stephens Cabinetry & Design For Your Kitchen Remodeling Needs
You can have the kitchen of your dreams without spending a fortune. At W. Stephens Cabinetry & Design, we offer affordable custom kitchen cabinetry and more. Our design team can help you choose materials for your space that are within your budget. We proudly offer a free consultation on kitchen remodels. Save money with W. Stephens Cabinetry & Design!
Want to see what W.Stephens can do for you?
Contact us (859) 331-8100 today!
—
About W.Stephens Cabinetry & Design
1-Source Turnkey Planning and Design Services
W.Stephens Cabinetry and Design provides planning and design services for the entire home including kitchens, bathrooms, wet bars, butler pantries, libraries, home theaters, and closets. Our designers follow a project from conception to completion, assisting clients in not only space-planning and design but also guiding clients through each step of the project.
Quality Cabinet and Hardware Suppliers
We are aligned with the top cabinet, appliance, hardware, and countertop suppliers in the world.
Our Process
Initial Client Consultation – The design process begins with a consultation at our show room or in your home to obtain the necessary information needed to design your dream kitchen, bath, or space.
Design – We carefully design the space, keeping your desires as the foundation of our creativity.
Feedback / Design Approval – Working with you, using your feedback to get final Design approval.
Installation Meeting – We meet with the installers, prior to installation to go over ALL the details.
Post Installation Follow-up – We follow-up with you to make sure everything went well during installation.
Our Designers
Our award winning designs collaboratively work together to create the perfect space for you.
>> View our designers
Our Work
View pictures of featured past projects…
>> View our work