When Steve and Patti Lane made the decision to relocate from Lexington to Northern Kentucky, it was with one mission in mind – family togetherness. But that mission had some special requirements, one's they weren't finding as easily as they had hoped.
Patti explained, "Our daughter Stephanie and her family live on the east side of Cincinnati, so we knew we needed to be as close to the Ohio river as possible." Steve added, "and our other daughter, Shelley, is disabled and so we can't leave the state of Kentucky because of her medical benefits." That meant that not only did this family need a special location, but they also needed a home with special accommodations for the whole family.
In 2020 they found just the right builder, Gerdes and Flesch, and just the right location, Taylor Mill. Here they could design the ranch home they needed, complete with an elevator for Shelley and plenty of room for the four grandchildren they were counting on to visit.
Designing a home is not easy but it is particularly difficult when you are doing it from 100 miles away. That meant relying on their builder, George Gerdes, for his relationships with local vendors. One of the most important of those vendors was their kitchen designer and cabinet supplier.
Patti shared, "We met with Wayne Stephens, of W.Stephens Cabinetry and one other company." Smiling she said, "Wayne was just so on top of it." Steve added, "He met us that first day at his showroom and George went with us. George had given both companies the layout before we came, and Wayne was more than prepared and he was right on the money. He was ready."
What types of designs did Wayne Stephens suggest that you are especially happy about?
"I really love the mixer lift," Patti said. "I wasn't going to do that, but my sister-in-law really thought I should. Then we were home and we tried lifting ours and realized how heavy it was. I love it now. Also, the coffee bar. We knew we didn't want a separate dining room so that end has an area for our coffee cups and we put glass in the cabinets to show it off."
What special considerations did Wayne provide for accessibility in your kitchen?
"He expanded the space between the island and the cooktop," shared Steve. "That is usually 3 to 4 feet. We made it 5 feet wide so Shelley could get her chair through there. We also have pull out drawers and then the huge island. It's 12 feet long, but now we have elbow room and room to move around."
How was the process of working with W.Stephens Cabinetry?
"Wayne was so good at communicating with us," Steve shared. "He was very responsive if we called him, even on Saturdays. He also listens to the customer. He doesn't come in and say, oh, you need this, this, and this. Especially at my age, I don't need someone telling me what I need. He did offer suggestions, I appreciated that, but then we got to choose."
In the end they were able to build the home that fit their needs and will accommodate those family events with their daughter, son-in-law, and grandkids, as well as Shelley, and plenty of room for visiting family and friends. W. Stephens Cabinetry and Design was able to provide design and cabinetry for the kitchen, the laundry and four and a half baths as well as a gorgeous recreation area and bar downstairs.
Happy?
"Wayne was great," Patti shared. "The attention to detail that he puts into the process was amazing. He came out personally towards the end to check on everything. He and our builder noticed the post on the corner of our bar and knew it needed to be trimmed out to look right and to match the island. We agreed but thought it would take months to get the matching materials. When we moved in, I came downstairs and saw it was done! I almost cried I was so happy." Steve smiled, "He really cares for his customers."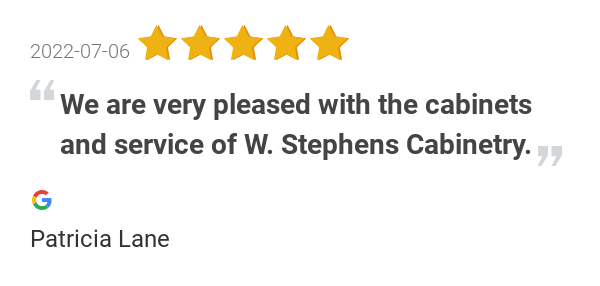 Want to see what W.Stephens can do for you?
Contact us (859) 331-8100 today!
—
About W.Stephens Cabinetry & Design
1-Source Turnkey Planning and Design Services
W.Stephens Cabinetry and Design provides planning and design services for the entire home including kitchens, bathrooms, wet bars, butler pantries, libraries, home theaters, and closets. Our designers follow a project from conception to completion, assisting clients in not only space-planning and design but also guiding clients through each step of the project.
Quality Cabinet and Hardware Suppliers
We are aligned with the top cabinet, appliance, hardware, and countertop suppliers in the world.
Our Process
Initial Client Consultation – The design process begins with a consultation at our show room or in your home to obtain the necessary information needed to design your dream kitchen, bath, or space.
Design – We carefully design the space, keeping your desires as the foundation of our creativity.
Feedback / Design Approval – Working with you, using your feedback to get final Design approval.
Installation Meeting – We meet with the installers, prior to installation to go over ALL the details.
Post Installation Follow-up – We follow-up with you to make sure everything went well during installation.
Our Designers
Our award winning designs collaboratively work together to create the perfect space for you.
>> View our designers
Our Work
View pictures of featured past projects…
>> View our work