Since so much time is spent in the Kitchen, it makes sense that a wide range of lighting is needed to create a functional, pleasant environment for your family and guest. Well placed lighting can help set a mood, draw attention to special features and help you with cooking and serving tasks. Make sure you account for ample lighting in your kitchen budget. One of the most popular kitchen trends at the moment is bringing more light into the room. Nowadays kitchens not only serve as a place to cook –but also as a dining room, office and family room. In the timeline of a kitchen design, your lighting plan comes after the kitchen layout is determined. So if you are remodeling or simply looking to update the light fixtures in your kitchen remember it is one of the first things you want to have in your plan. The following 3 basic types of fixtures are what you need to keep in mind in order to brighten up the room…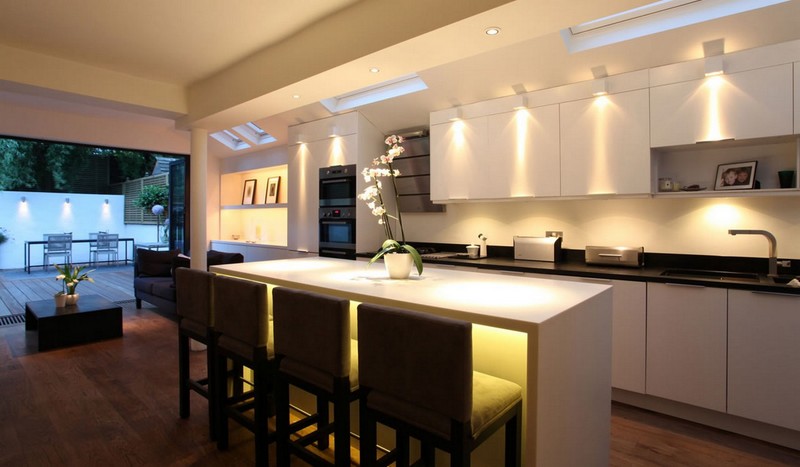 Ambient Lighting
Ambient lighting provides overall illumination for a room, and is intended to create a uniform light level throughout a space, independent of any special lighting that may be needed in targeted areas of a room. In most home settings, when a person steps into a room and flips on a switch, ambient lighting illuminates the space. Ambient lighting takes many forms, including: ceiling-mounted or recessed fixtures that direct light downwards; wall sconces or floor-lamp torchieres that wash the walls with light; cove, soffit and valance lighting that bounces light off ceilings and walls. Chandeliers will add an element of elegance and sophistication to your kitchen, while ceiling mounted lights tends to be more simplistic. During the day, the majority of ambient lighting comes from outside. During the evening however, ambient lighting can be accomplished using a variety of light fixtures.
Task Lighting
The purpose of this lighting is to provide illumination to your work space or task area-they are great for those moments when you are preparing food, doing homework, or paying bill, anywhere that requires close–up work. The newest type of under cabinet lighting is an LED strip light. They can come in a pure white light or a warm light, and can also be used with a dimmer. While a little more expensive than halogen, LED lights emit almost no heat and last for a very long time. Track lighting is another popular choice for over-counter task lighting. However if you are looking to make a statement while achieving this type of lighting, try pendant lights. They come in a variety of shapes, sizes and styles.
Accent lighting
Just about any feature you'd like to highlight in your kitchen can be enhanced with creative lighting. Strip lighting, or a Puck light inserted into a glass cabinet, can illuminate your favorite collectables. Today's lighting options provide endless opportunities. Another popular area for accent lighting is the space between the cabinet tops and the ceiling. Rope lights are an inexpensive way to accomplish this look. Accent lighting is an interior design scheme which is used to draw attention to items like paintings, sculptures, and other decorative accents..
The most effective lighting for the kitchen involves these three layers blended together: task, ambient and accent . The end result will be a warm and inviting environment that works with your other design elements to create a practical workspace and lively entertainment area. For a kitchen that shines in every light, stop in our showroom and talk to our knowledgeable, experienced kitchen design consultants. Let us put our expertise to work for you!
Contact us (859-331-8100) today to make an appointment!
—
About W.Stephens Cabinetry & Design
Quality Cabinet and Hardware Suppliers
We are aligned with the top cabinet, appliance, hardware, and countertop suppliers in the world.
Our Process
Initial Client consultation – The design process beings with a consultation at our show room or in your home to obtain the necessary information needed to design your dream kitchen, bath, or space.
Design – We carefully design the space, keeping your desires as the foundation of our creativity.
Feedback / Design Approval – Working with you, using your feedback to get final Design approval.
Installation Meeting – We meet with the installers, prior to installation to go over ALL the details.
Post Installation Follow-up – We follow-up with you to make sure everything went well during installation.
Our Designers
Our award winning designs collaboratively work together to create the perfect space for you.
>> View our designers