Imagine beginning each day with a dedicated space in your kitchen designed specifically for your early morning wakeup sip of coffee or tea. You can enjoy the charm of a neighborhood café with everything at your fingertips, your favorite coffee or tea, sweetener, and even your special coffee or tea mugs. Impress your friends, family and neighbors with a special entertainment area of your kitchen well away from where you're cooking. Your friends will enjoy their special glass of wine or mug of beer from the beer fridge or wine rack. Add value to your home by adding a designated beverage bar away from the main cooking area of your kitchen. Entertain your guests with the greatest kitchen design trends while adding dedicated beverage storage. You could add an amazing wine bar or coffee station scaled to fit almost any space! Don't let limited space stop you from creating an stunning beverage bar in your home.
Mini Wine Refrigerator for Limited Spaces
You could add a wine refrigerator or built-in coffee maker in almost any kitchen. Consider this mini wine fridge, which easily fits away from the main cook top, under excess counter space or snuggled above a storage drawer. Your guests can enjoy their favorite wine and beer or you can stock it with popular beverages for your children and friends.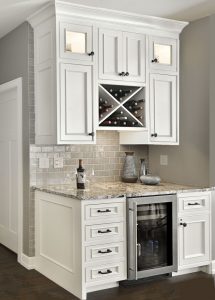 Larger Wine Refrigerators When You Have the Room
For the wine connoisseur, your kitchen design can include a larger wine refrigerator. Envision a perfect addition such as this…
How about a built-in coffee maker?
It's a popular feature for entertainment and coffee lovers. Imagine not having to worry about adding water to your
coffee pot since the coffee machine is connected to your plumbing. Simply add your favorite coffee and it will brew with a push of a button!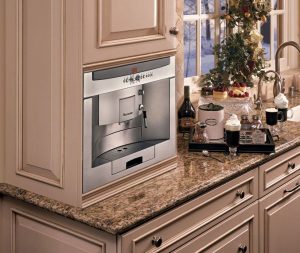 Separate Kitchen Beverage Stations
Of course, the optimal choice would be a separate beverage station, provided you have sufficient space in your kitchen. A beverage bar should be positioned away from the main cooking area to avoid interfering with cooking and cleanup. Beverage bars can be freestanding or built into cabinets to allow a designated space to store glasses, mixers, coffee, tea and other beverage supplies.
The BAR!
If you love entertaining or just desire to be a bartender, consider adding a specialized bar to your kitchen design, basement or other favorite room in your home. The possibilities for your beverage bar are endless: small or large beverage refrigerators, ice makers, built-in wine racks, stem glass holders or glass cabinetry.
A Wine Cellar for Wine Lovers
W. Stephens Cabinetry and Design can create custom designs for your home to fit your tastes!
Contact us (859-331-8100) today to make an appointment!
—
About W.Stephens Cabinetry & Design
Quality Cabinet and Hardware Suppliers
We are aligned with the top cabinet, appliance, hardware, and countertop suppliers in the world.
Our Process
Initial Client consultation – The design process beings with a consultation at our show room or in your home to obtain the necessary information needed to design your dream kitchen, bath, or space.
Design – We carefully design the space, keeping your desires as the foundation of our creativity.
Feedback / Design Approval – Working with you, using your feedback to get final Design approval.
Installation Meeting – We meet with the installers, prior to installation to go over ALL the details.
Post Installation Follow-up – We follow-up with you to make sure everything went well during installation.
Our Designers
Our award winning designs collaboratively work together to create the perfect space for you.
>> View our designers