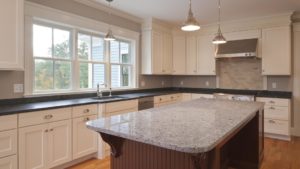 What better way to spruce up your kitchen, laundry room, or bar than with a counter top redesign? This post will focus on your kitchen but most if it will also apply to your laundry room, bar, or other countertops that you want to redesign. The counter tops in your kitchen are multi-purpose – they can be used for eating, preparing meals and for storing kitchen appliances. The look of your countertops can make or break the design of your kitchen. So many decisions from marble to granite to quartz. Then there is the color, layout and function to consider. We would like to share a few tips that may help you with the daunting process…
Select Your Countertops First
The cost of countertops is more per foot than other items you'd purchase for your kitchen, so majority of your budget will go towards this. You don't want to end up running out of money because you overspent on your cabinets, paint or floors. It will also help set the tone for your color palette. Kitchen countertops play a demanding role… as the site of all food preparation, it's expected to be durable (stain-proof, scratch-proof, and heat-proof), beautiful, and (best-case scenario) economical. With all the many options available today, it's no wonder choosing a countertop material is a hard decision.
Choosing The Material For Your Countertops
Natural materials like Marble and Wood have ruled the roost in kitchens for many years, so-called solid-surface counter tops like Corian are increasingly popular. Then there's engineered quartz. For people who know they will not enjoy enjoy anything less than a bulletproof surface, Corian is usually recommended. The biggest mistake is sacrificing a counter-top surface you love because you're afraid it won't last.
Make Sure The Countertops You Select Vibe Well With Aesthetics Of Your Room
If your home has an open plan make sure the countertops work well with the colors, fabrics, and finishes within the space. This may call for some redecorating, but it will be well-worth it in the end. Also, pay attention to the light – both natural and artificial. Light can cause the color of natural stone to vary greatly.
Why Not Do Something A Bit Different?
You could consider tile countertops because you will then have so many different colors and styles to choose from for your project. Just be mindful of the grout you choose, since this can become dated. Avoid classic white and go with taupe, gray or another darker color. Tile isn't just for back splashes and floors. Mosaics can also make up the material for countertops.
Think About Mixing Counter-top Surfaces
Pair materials like you would an outfit. Combining different styles of countertops in contrasting colors and textures has several benefits. It creates visual drama, offers versatility, and can help stretch a budget. A durable surface such as granite is great near the stove and sink where stains are more likely to occur. If you love the look of Marble use it where spills can be minimized, like an island.
Don't Forget The Edges And Back-splashes
Matching countertops with the edges and back-splash is often a subjective concept. What one person deems a "match" another might think is a clash. The kitchen décor is a place to showcase your personality, since you'll be spending a lot of time there, both cooking and gathering with family and friends. Kitchens are showcases for the homeowners' creativity and personality. When choosing elements, you need to balance a desire for drama with the need to improve the home's resale value, but don't be afraid to mix and match boldly. The options are endless, so we hope you enjoy the process as much as the result.
Once you know your style stop by so we can start the process of making your dream kitchen or bathroom a reality!
>> View Our Featured Work
Want to see what W.Stephens can do for you? Contact us (859) 331-8100 today!
—
About W.Stephens Cabinetry & Design
1-Source Turnkey Planning and Design Services
W.Stephens Cabinetry and Design provides planning and design services for the entire home including kitchens, bathrooms, wet bars, butler pantries, libraries, home theaters, and closets. Our designers follow a project from conception to completion, assisting clients in not only space-planning and design but also guiding clients through each step of the project.
Quality Cabinet and Hardware Suppliers
We are aligned with the top cabinet, appliance, hardware, and countertop suppliers in the world.
Our Process
Initial Client consultation – The design process beings with a consultation at our show room or in your home to obtain the necessary information needed to design your dream kitchen, bath, or space.
Design – We carefully design the space, keeping your desires as the foundation of our creativity.
Feedback / Design Approval – Working with you, using your feedback to get final Design approval.
Installation Meeting – We meet with the installers, prior to installation to go over ALL the details.
Post Installation Follow-up – We follow-up with you to make sure everything went well during installation.
Our Designers
Our award winning designs collaboratively work together to create the perfect space for you.
>> View our designers