Do you want to add detail to your kitchen without making any major changes or spending tons of money??? Everyone wants that wow-factor in their kitchen. When it comes to remodeling, most of us want that perfect, unique custom designed room. Adding that personal touch can help elevate your room and deliver exceptional results. The following ideas will help you add a little more personality to your kitchen.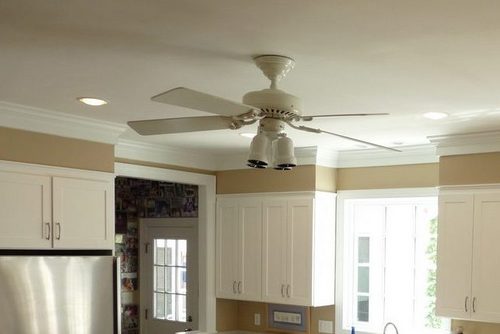 Crown Molding
Crown Molding can add instant character to your kitchen. Custom crown molding can be made so the cabinets appear flush with the ceiling. And it can be used as a decorative piece to put a beautiful finishing touch on kitchen cabinets.
Glass Door Fronts
Cabinet fronts set the tone for the entire kitchen design. Replacing the typical solid panel fronts with inset glass panes can add a dazzling touch to the overall décor of the room. There are lots of glass choices anything from transparent, frosted, seeded glass, or stained glass. They give a little glimpse into your personal personality. Glass also gives the illusion of space and make the area look more inviting.
A Splash of Color
Neutral continues to be the choice for the kitchen canvas as far as cabinets, countertops and appliance are concerned but a splash of color in the less permanent accents will make your kitchen stand out. Maybe a decorative backsplash and decorative pieces in a bright color will add an attractive combination of vitality and glamour.
Beadboard
Incorporate beadboard on the cabinet ends or on the cabinet fronts as the finishing touch to your kitchen. While it adds visual interest to the décor, beadboard will not compromise the overall simplicity of your design. It features decorative beading and that is used typically on walls (as for wainscoting) and ceilings. A beadboard ceiling, paddle fan and recessed lighting could create a completely new look.
Corbels
In architecture a corbel is a structural piece of stone, wood or metal jutting from a wall to carry a weight, a type of bracket. A corbel is a solid piece of material in the wall. So complement your island or cabinetry with artistically designed corbels. Instead of choosing to support shelves and cabinets with a plain bracket, consider the fact that corbels can be used to decorate while remaining practical.,
Our experienced design staff will work with you to create a kitchen customized for your space and lifestyle. W. Stephens Cabinetry and Design can create custom designs for your home to fit your tastes and preferences!
Contact us (859-331-8100) today to make an appointment!
—
About W.Stephens Cabinetry & Design
Quality Cabinet and Hardware Suppliers
We are aligned with the top cabinet, appliance, hardware, and countertop suppliers in the world.
Our Process
Initial Client consultation – The design process beings with a consultation at our show room or in your home to obtain the necessary information needed to design your dream kitchen, bath, or space.
Design – We carefully design the space, keeping your desires as the foundation of our creativity.
Feedback / Design Approval – Working with you, using your feedback to get final Design approval.
Installation Meeting – We meet with the installers, prior to installation to go over ALL the details.
Post Installation Follow-up – We follow-up with you to make sure everything went well during installation.
Our Designers
Our award winning designs collaboratively work together to create the perfect space for you.
>> View our designers