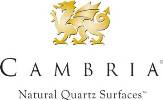 Cambria surfaces are 93% pure quartz. Granite typically only contains 40–60% quartz, along with more porous, weaker minerals. That's why granite is more susceptible to damage. Cambria's durability also means you can be more creative with it. Draw daring edge shapes with wider overhangs to create a kitchen like no other.
How To Mix and Match Materials in Your Kitchen…
Cambia has more than 100 Designs
Cambia is more Durable than Granite
Not to be afraid to mix textures and designs
& More
Cambria Inspiration Gallery
Want to see what W.Stephens can do for you?
Contact us (859) 331-8100 today!
—
About W.Stephens Cabinetry & Design
1-Source Turnkey Planning and Design Services
W.Stephens Cabinetry and Design provides planning and design services for the entire home including kitchens, bathrooms, wet bars, butler pantries, libraries, home theaters, and closets. Our designers follow a project from conception to completion, assisting clients in not only space-planning and design but also guiding clients through each step of the project.
Quality Cabinet and Hardware Suppliers
We are aligned with the top cabinet, appliance, hardware, and countertop suppliers in the world.
Our Process
Initial Client consultation – The design process beings with a consultation at our show room or in your home to obtain the necessary information needed to design your dream kitchen, bath, or space.
Design – We carefully design the space, keeping your desires as the foundation of our creativity.
Feedback / Design Approval – Working with you, using your feedback to get final Design approval.
Installation Meeting – We meet with the installers, prior to installation to go over ALL the details.
Post Installation Follow-up – We follow-up with you to make sure everything went well during installation.
Our Designers
Our award winning designs collaboratively work together to create the perfect space for you.
>> View our designers