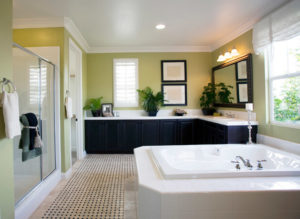 The first step to designing a space that flows with traffic properly is to know your usage patterns. Do the people who are going to share the master bathroom wake and depart to different jobs at the same time or will they use the bathroom separately as they wake at different times. The two scenarios present much different designs but in either case, future usage requirements must be considered. Will your routine always stay the same? Maybe not. Other factors that will influence your design decisions will be existing plumbing, unmovable walls, adjacent rooms and hallways. And don't forget the investment required to change this factors for a better design. That will definitely influence your design.
Toilet Enclosures
A separate toilet enclosure. This room should be a minimum of 36-inches wide by 66-inches long. The suggested centerline for a toilet from a wall is 18 inches with centerline of an adjacent bidet being no less than 18 inches from the side of the toilet. IRC and IPC codes permit closer dimensions. You may want more space but these are the benchmarks. When specifying a toilet/bidet combination, do not forget to provide a soap dish and towel holder in the enclosure.
Tub and Shower
The relationship of the shower, tub and toilet is relatively simple and a common entrance/drying area usually is the best answer. In very large spaces, more area dedicated to the bedroom or closets is much more important to most customers that a huge floor in front of a tub or shower. Consider an under-mounted tub to show a clean look and easy entrance and exit. Make sure to avoid steps into the tub for safety reasons. Maybe include a ledge on the tub or shower deck that can be used as a design feature and to hold soaps and lotions. Ledges should be at least 4 inches on all four sides. You could also extend your ledge to provide a seating area. If your tub is large, a central location is preferable to allow for an adjacent shower with a possible seating area.
Vanities
Remember elbow room and traffic flow when considering a dual vanity. Make sure the sinks are far enough from one another. When placing vanities across from the bathing area, a minimum of 30 inches of clear floor space is recommended. In a master suite, 36 to 50 inches is common. The minimum code requirement for dual lavatories is 60 inches overall with the lavatory bowls on 15-inch centerlines from the ends.
Looking to remodel your bathroom, kitchen, mudroom, basement, bar, or some other part of your home?… W.Stephens can help you!
Contact us (859-331-8100) today to make an appointment!
—
Quality Cabinet and Hardware Suppliers
We are aligned with the top cabinet, appliance, hardware, and countertop suppliers in the world.
Our Process
Initial Client consultation – The design process begins with a consultation at our showroom or in your home to obtain the necessary information needed to design your dream kitchen, bath, or space.
Design – We carefully design the space, keeping your desires as the foundation of our creativity.
Feedback / Design Approval – Working with you, using your feedback to get final design approval.
Installation Meeting – We meet with the installers, prior to installation, to go over ALL the details.
Post Installation Follow-up – We follow-up with you to make sure everything went well during installation.
Our Designers
Our award winning designers collaboratively work together to create the perfect space for you.
>> View our designers