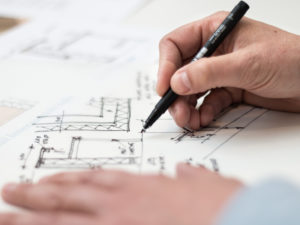 In every home, large and small, modern or traditional, the kitchen is the heart and hub of the home. On a daily basis, the kitchen serves as a revolving door for family members. They come and go; grabbing snacks, doing homework, catching up on social media. All the while, the family chef prepares the meals, and checks in on the happenings of the day. For special events, the kitchen is the 'life of the party'. Guests and family members tend to spend their time catching up with the host while she prepares the food, mixes the drinks, and whips up the desserts. Kitchen styles can be modern or traditional, but many times they are not designed for the daily and special event needs of the chef. Some of the biggest design issues include kitchens that are closed off from the other areas of the home, and inefficient layouts. Here are the top 5 things to consider when redesigning your kitchen…
Design for Functionality
Ensure that the chef can move easily to each area, while preparing food; from the storage area, to prepping, cooking, serving, and cleanup. The chef should be able to move around without guests or family members getting in the way. Keep safety in mind. There should be enough room for the chef to get hot items from the stove, or oven to the counter or sink without someone walking in front of them.
Create the Maximum Amount of Counter Space
You can never have enough counter space. Plan for the maximum amount and make sure that there's plenty of space in between appliances to set large pans and trays. If there's too narrow of a space in between, it's just wasted space. An island can also be a great solution for extra counter space, better traffic flow, or to provide room for an extra sink and storage. For family events, there are often several generations of cooks in the kitchen telling stories and catching up on family news. Extra counter space allows for more efficiency, keeps people out of the way of each other, and also provides for additional seating at dinner time. Plan in advance for appliances that you would like to incorporate into the overall design. Keep in mind that the recommended height between your countertop and cabinet is 18", but sometimes you may need to customize for non-standard sizes. You may also want to consider a raised counter that opens to the living space for serving snacks or additional seating.
Match Appliances with Your Daily and Entertaining Needs
Do you need a 'master chef' kitchen or a more standard kitchen? There are so many built-in and counter top appliances available. The amount of choices can be overwhelming. Prioritize what features are the most important to your daily and entertaining needs.
Determine the Style and the Amount of Storage You Need
While open shelving and display cabinets can be beautiful, be realistic with your expectations. If you are an organized, neat chef, this could show off your style while maintaining functionality. However, if you are disorganized or tend to have a lot of clutter, it may be best to incorporate closed cabinetry and a pantry with a door. For both options, there are a variety of designs for shelving and drawers to help keep you organized and maximize your storage space.
Plan for Lighting and Outlets
Keep in mind the number of electrical appliances you use on a regular basis. You want to be able to work efficiently in the kitchen without minor inconveniences like having to run an extension cord to an outlet.
Redesigning a kitchen can be fun and rewarding. In the end, it's about what is best for your balance of style and function.
Want to see what W.Stephens can do for you?
Contact us (859) 331-8100 today!
—
About W.Stephens Cabinetry & Design
1-Source Turnkey Planning and Design Services
W.Stephens Cabinetry and Design provides planning and design services for the entire home including kitchens, bathrooms, wet bars, butler pantries, libraries, home theaters, and closets. Our designers follow a project from conception to completion, assisting clients in not only space-planning and design but also guiding clients through each step of the project.
Quality Cabinet and Hardware Suppliers
We are aligned with the top cabinet, appliance, hardware, and countertop suppliers in the world.
Our Process
Initial Client consultation – The design process beings with a consultation at our show room or in your home to obtain the necessary information needed to design your dream kitchen, bath, or space.
Design – We carefully design the space, keeping your desires as the foundation of our creativity.
Feedback / Design Approval – Working with you, using your feedback to get final Design approval.
Installation Meeting – We meet with the installers, prior to installation to go over ALL the details.
Post Installation Follow-up – We follow-up with you to make sure everything went well during installation.
Our Designers
Our award winning designs collaboratively work together to create the perfect space for you.
>> View our designers