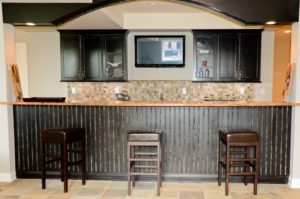 If you love putting together new drinks and entertaining family and friends, then having a home bar should be on your next to-do list. Nothing screams entertainment quite like having a home bar. Before you begin customizing your home bar you want to figure out exactly where you want it. Keep in mind if you want your home bar to have appliances or filtered water you want to choose an area in your home that has the needed hook ups. Here are some home bar ideas that will modernize your entertainment space…
Choose a Great Location
Your planning process must include a location of your bar as one of the first decisions. A few things to consider before your final decision would be…
Is there a bathroom nearby?
Is there room for addition seating near the bar?
How many people will you want to be seated at the bar?
What shape do you have in mind?
Is there access to electricity, water and cable lines?
Have Everything You Want In Your Custom Bar…
If you are a beer drinker, have a draft beer system
Add a oven and a microwave and even a pizza oven for making some delicious snacks
An ice machine is a great addition
A Dishwasher for easy cleanup
A sink for rinsing out glasses
If your family and friends are wine drinkers create space for storing your collection
Custom Cabinets Are Necessary For A Custom Bar
You will need lots of storage for your bar. But do not only think of functionality, make your cabinets beautiful. Use lighting under the shelves and under the cabinets. Have glass in your doors to show off your stemware and your spirits collection. A few things you will need to stock your bar and store in your cabinets.
Bar accessories
Serving dishes
Glasses
Spirits
Wine
Mixers
Bar Blenders
Garnishes
Style And Design Choices Of Your Bar
Since bars are simply a collection of functional cabinets and trim options, the possibilities are endless. The overall look and style of your bar will depend on personal preference and budget, but here are a few style options that you will have to choose.
Lighting for a focal point and also interesting lighting over the bar
For bar stools, consider about 30 inches for each bar stool to determine how many you will need
What style and shape for your bar?
Foot rails?
Back bar – So many choices but remember the back bar is a large part of the bar's design. Probably your TV will placed in the space but you can choose wood, stone, tile or even mirrors . This is an area you will want to pop.
Standard Bar Dimensions
Your bar can be as long as you want it, but professional bars are 42-inches tall. The average bar top is between 16 to 20-inches wide, and the average bar overhang is 8-inches. You may want to extend that overhand by a couple of inches to make it easier for people to sit at your bar without banging their knees against the bar wall. Foot rails on your bar should be approximately nine inches from the floor. Remember to include a serving counter at the back bar it is approximately 12-inches lower than the bar top. You should also include a drink lip on the serving side of the bar to make sure that your area behind the bar does not get soaked with spilled drinks.
Want to see what W.Stephens can do for you?
Contact us (859) 331-8100 today!
—
About W.Stephens Cabinetry & Design
1-Source Turnkey Planning and Design Services
W.Stephens Cabinetry and Design provides planning and design services for the entire home including kitchens, bathrooms, wet bars, butler pantries, libraries, home theaters, and closets. Our designers follow a project from conception to completion, assisting clients in not only space-planning and design but also guiding clients through each step of the project.
Quality Cabinet and Hardware Suppliers
We are aligned with the top cabinet, appliance, hardware, and countertop suppliers in the world.
Our Process
Initial Client consultation – The design process beings with a consultation at our show room or in your home to obtain the necessary information needed to design your dream kitchen, bath, or space.
Design – We carefully design the space, keeping your desires as the foundation of our creativity.
Feedback / Design Approval – Working with you, using your feedback to get final Design approval.
Installation Meeting – We meet with the installers, prior to installation to go over ALL the details.
Post Installation Follow-up – We follow-up with you to make sure everything went well during installation.
Our Designers
Our award winning designs collaboratively work together to create the perfect space for you.
>> View our designers