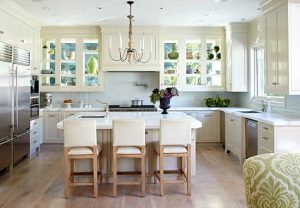 Natural light brings many benefits, as it boosts your mood, provides vitamin D, and keeps down the electric bills. When people are asked their favorite season is is usually summer. We associate vacation time, the beach , outdoor barbecues and the swimming pool with summer. It also means light! Summer brings longer days and more sunlight and less time switching on the lights inside the house. During this time of year you very seldom need to switch on the lights while preparing dinner in the kitchen. As summer is ending be sure and sit outside and soak up the last few hours of sunshine. We would like to give you a few tips to consider about all the ways you can maximize natural light all year round in your kitchen design. Think about your sources of natural light.
Glass Front Kitchen Cabinets
A well-planned kitchen design must have a balance of windows and cabinets to allow ample storage, but glass front cabinets are the perfect way to maximize natural light sources, they allow light to flow through the room more effectively.
Color Choices
Dark colors absorb light and create a darker appearance in the room, while light colors reflect light. Pick the right color scheme for your cabinets, walls, and other décor in a shade that compliments natural light and maximized its effect in the room. Color play a key role in the effect light has on a room. Make the most of natural light and soak up the rays while you are working away in the kitchen, but work with your kitchen design professional to include other light sources. A multi-layered lighting design means you can always see properly and creates the perfect atmosphere for dining or entertaining.
An Open Kitchen Layout
Perhaps the most people-friendly of all kitchen styles, the open kitchen layout allows for a smooth transition between dining, living and recreational areas. By planning a kitchen and living area to remove walls and create one large, open space, the design options are endless. An open space with an airy atmosphere that brings more light into the room.
Windows
If you are considering a kitchen remodel your windows are an obvious place to start.If you are changing the layout of your space as part of a kitchen remodel, consider the direction your windows face, and how effective they will be at picking up sunlight. You might have some room for windows, but not much? Try adding narrow windows tucked between upper cabinets and shelves to bring much needed natural light into your kitchen area. Instead of replacing your upper kitchen cabinets with windows. Consider adding a window backsplash below the cabinets to let in more natural light. While under counter lighting helps eliminate dark spaces beneath cabinets, natural light during daylight hours is even more beneficial and beautiful. Keep in mind that you must balance the wall space taken up by windows with the area left for wall cabinets.
Skylights
If skylights fit in with the style and architecture of your home and kitchen design they can be a great source of natural light. Follow the Sun. People regard the sun as a 100-watt bulb nailed to the sky that never moves. You have to be aware where the sun starts out and where it ends up. Skylights in sloping roofs facing south are especially liable to overheat rooms. North-facing skylights will admit a soft, diffuse light all day long, although they won't give that sun-splashed effect. If you want to maximize the impact of natural light, select a door style that includes more glass like large sliding doors . These external doors open the kitchen to the outside and serve as an excellent source of natural light.
Window coverings
You want to allow as much natural light as possible into your kitchen design. Do not overly dress the windows. If you find your kitchen dark or just want to get more light into the room, consider changing drapery to lighter fabrics that do not absorb as much light or simply remove all window coverings if you do not need the privacy.
Contact us (859-331-8100) today to make an appointment!
—
About W.Stephens Cabinetry & Design
Quality Cabinet and Hardware Suppliers
We are aligned with the top cabinet, appliance, hardware, and countertop suppliers in the world.
Our Process
Initial Client consultation – The design process beings with a consultation at our show room or in your home to obtain the necessary information needed to design your dream kitchen, bath, or space.
Design – We carefully design the space, keeping your desires as the foundation of our creativity.
Feedback / Design Approval – Working with you, using your feedback to get final Design approval.
Installation Meeting – We meet with the installers, prior to installation to go over ALL the details.
Post Installation Follow-up – We follow-up with you to make sure everything went well during installation.
Our Designers
Our award winning designs collaboratively work together to create the perfect space for you.
>> View our designers