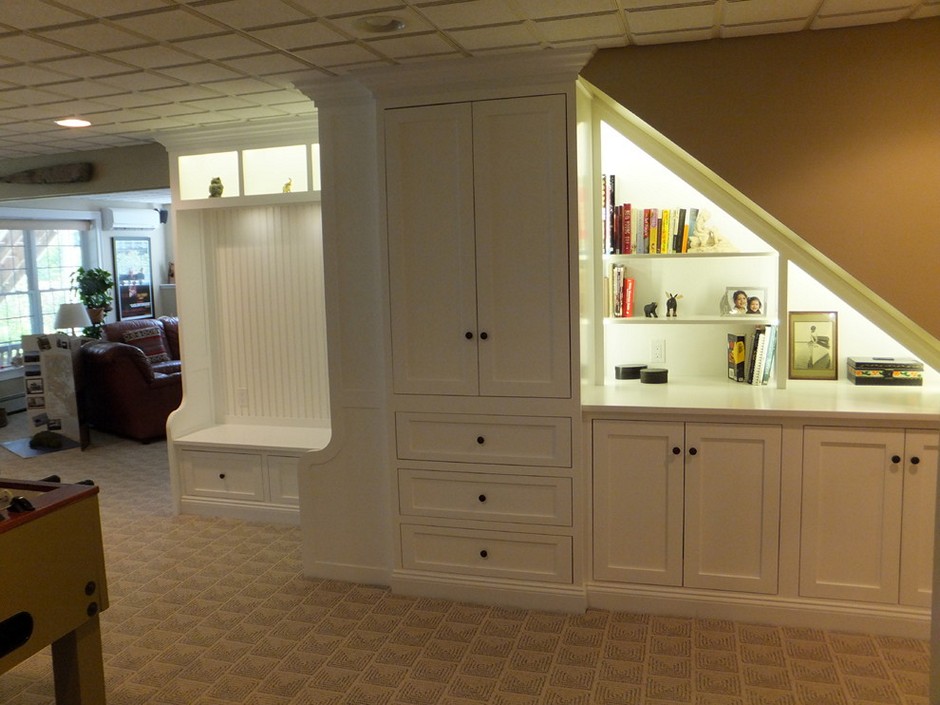 Even if it's currently cold concrete and crammed with boxes of off-season duds, the lowest floor of your home probably has loads of potential. Treat it just as you would any of the rooms above ground, and it might just become the most popular spot in the house — for a lot less cash than adding on. Here's our bottom-line advice for turning this underutilized space into a place you'll be eager to spend time in. Finishing the basement allows you the rare opportunity to design a room from the ground up. Working with that much flexibility can often feel overwhelming, especially if you're dealing with it for the first time. Use these tips as a guide to create a bonus space that works for your family.
Do: Keep the Space Simple and Functional
Remember that even though you'll be taking your basement to the next level, it still needs to be a highly utilitarian area. Whether you currently use the space for storage, laundry facilities, a home office or some combination of all three, you want your new design to enhance that functionality rather than take away from it.
Do: Consider Your New Layout
There are three rules to keep in mind:
Wall off any areas that need extra privacy.
Leave the area around your water heater unfinished in case of leaks.
Keep your plumbing in place whenever possible to cut down on cost.
Before you get started on your project, think about all the ways you're hoping to use your new space. Maybe you've been thinking about adding a guest bedroom, another powder room, or maybe you want to add a gym, laundry room, bar, or TV room.
DON'T: Underestimate the Construction
Unless you have a true background in construction, this is one area where we truly recommend hiring a contractor. Make sure the team you hire has the skills to take on your unique vision. Select someone who is familiar with the permitting and zoning regulations in your municipality and, if possible, bring in specialists to handle any necessary plumbing and electrical work. Check for any water issues in your basement before beginning the planning process. Obvious signs are pools of water or drips coming through the below-grade walls. Check outside to make sure the ground is graded away from your foundation. Also, look for cracks in your foundation walls and repair that damage, if necessary. Finishing a basement is different from any other design project. Because, in this case, you're starting from scratch. While that does give you more freedom to customize the space as you see fit, there's also more legwork to be done in the beginning to ensure it stays warm and dry. No one wants to see their hard work dampened by an errant rainstorm or frigid temperatures.
Do: Have a Master Plan Designed by a Professional
Have some sort of open concept arrangement. Maybe you want an extra kitchen area, bar, a laundry room, or a gym. Regardless of which grouping you want, ground it with its own light fixture and maybe an area rug. Be sure to have space between each segment. It will also help separate these areas so they do not seem visually overwhelming. But, keep the open concept.
DON'T: Neglect the Esthetics of Your Room
For many years, the basement consisted of bare walls and mismatched furniture. No Longer. When you're going to spend the time, energy, and money to finish your basement, you should treat it like any other space in your house. Color and accessories that match your furniture choice will make your new basement welcoming and cozy.
Contact us (859-331-8100) today to make an appointment!
—
Quality Cabinet and Hardware Suppliers
We are aligned with the top cabinet, appliance, hardware, and countertop suppliers in the world.
Our Process
Initial Client consultation – The design process begins with a consultation at our showroom or in your home to obtain the necessary information needed to design your dream kitchen, bath, or space.
Design – We carefully design the space, keeping your desires as the foundation of our creativity.
Feedback / Design Approval – Working with you, using your feedback to get final design approval.
Installation Meeting – We meet with the installers, prior to installation, to go over ALL the details.
Post Installation Follow-up – We follow-up with you to make sure everything went well during installation.
Our Designers
Our award winning designers collaboratively work together to create the perfect space for you.