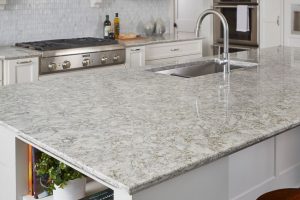 Cambria's countertop products are made of the finest quartz. They are distinctively durable, nonabsorbent, and easy to maintain. Quartz is one of the hardest minerals on Earth. Because of its strength and abundance, quartz is a popular and reliable choice for countertops. Quartz countertops are sometimes referred to as "engineered" or "man-made," but quartz is in fact a natural stone. The amount of natural quartz in a slab depends on the quartz manufacturer. Cambria is among the highest concentration of pure quartz to ensure strong, compact slabs. Below we will show you some of Cambia's latest countertop designs and colors. We will also compare quartz countertops to granite, concrete, marble, and soapstone…
4 Cambria Countertop Designs and Colors
Quartz countertops come in a wide range of colors, patterns, and tones making them a versatile option for many interior design styles. Quartz countertop colors range from solid, monochromatic hues to boldly patterned designs with intricate movement and veining. Many popular quartz designs showcase neutral or earth tones and reflect the look of granite, marble, or other stones. Quartz colors can also be unique and vibrant, including reds, blues, greens, and golds. Some quartz designs incorporate shimmer and sparkle, with jewel-like particles.
CASHEL
Energetic burgundy veins fracture across a warm white background. Delicate shading of tan accents complement the veins, accentuating this design's undeniable warmth.
CLARE
In this elegantly modern design, bright white cool veins contrast with a versatile gray background, creating a deftly saturated design.
NOTTING HILL
Organic burgundy veins traverse an exceptionally clean warm white canvas, adding to the design's natural warmth. When you look closer, the veins of Notting Hill delicately shimmer.
HERMITAGE
Delicate gold veining swirls in tight and open patterns, creating lighter and darker pools of color. This elegant warm design glistens.
Quartz Pros and Cons
One of the main benefits of quartz countertops is that they are extremely durable.
Quartz countertops never have to be sealed, unlike granite, marble, and other surfaces that require regular maintenance.
Quartz countertops are also nonabsorbent, so they resist staining and don't harbor harmful bacteria.
Homeowners and designers also turn to quartz for its versatile and beautiful designs, colors, and patterns.
Quartz countertops are scratch resistant, but due to their hardness they may dull a knife that is used directly on the surface.
Like all natural stone countertops, quartz can be damaged by sudden changes in temperature. Pot holders and trivets should be used to protect a quartz countertop from anything hot.
Though quartz countertops are not approved for outdoor use, quartz may be used in outdoor kitchens with full overhead coverage from the elements.
Quartz vs Granite
Quartz countertops are stronger than granite countertops. Quartz is an extremely hard mineral. Granite also absorbs liquids and stains, while quartz is completely nonabsorbent. Quartz countertops are maintenance free. Granite countertops need to be sealed and polished regularly. In addition, quartz can be fabricated for use in many unique applications that are not possible with granite or other stones.
Quartz vs Marble
Quartz countertops are much more durable than marble countertops. Marble scratches and stains easily, while quartz countertops resist scratching and staining. Marble countertops require frequent maintenance, but quartz countertops never need to be sealed or polished. Unlike marble, quartz is nonabsorbent, so staining liquids and harmful bacteria are never absorbed. In addition, acidic foods like lemon can cause etching on marble countertops, which is never a concern with quartz.
Quartz vs Concrete
Unlike quartz, concrete is not a natural stone. Concrete is a mixture of water, cement, and an aggregate of sand or gravel. Concrete countertops are porous, susceptible to stains, and require sealing. Quartz countertops do not absorb liquids, do not stain, and never require maintenance. Concrete countertops are sometimes touted as a DIY project, but they are extremely heavy and difficult to install. When purchased from reputable companies and retailers, quartz countertops are installed in a smooth, expert process by professionals.
Quartz vs Soapstone
Quartz countertops are significantly more durable than soapstone countertops. Soapstone countertops etch and scratch easily and must be oiled regularly to maintain their appearance. Quartz countertops are scratch resistant and do not require any maintenance. Soapstone countertops have a soft, powdery feel to the touch and their appearance can change or darken over time. High-quality quartz countertops will maintain the same appearance over time without any upkeep.
Want to see what W.Stephens can do for you?
Contact us (859) 331-8100 today!
—
About W.Stephens Cabinetry & Design
1-Source Turnkey Planning and Design Services
W.Stephens Cabinetry and Design provides planning and design services for the entire home including kitchens, bathrooms, wet bars, butler pantries, libraries, home theaters, and closets. Our designers follow a project from conception to completion, assisting clients in not only space-planning and design but also guiding clients through each step of the project.
Quality Cabinet and Hardware Suppliers
We are aligned with the top cabinet, appliance, hardware, and countertop suppliers in the world.
Our Process
Initial Client consultation – The design process beings with a consultation at our show room or in your home to obtain the necessary information needed to design your dream kitchen, bath, or space.
Design – We carefully design the space, keeping your desires as the foundation of our creativity.
Feedback / Design Approval – Working with you, using your feedback to get final Design approval.
Installation Meeting – We meet with the installers, prior to installation to go over ALL the details.
Post Installation Follow-up – We follow-up with you to make sure everything went well during installation.
Our Designers
Our award winning designs collaboratively work together to create the perfect space for you.
>> View our designers